The Johnson Family
Anne Catherine Johnson
12 December 1851, in Wexford, county Wexford, Ireland

Samuel Johnson

Marianne (Richards) Johnson

14 December 1930


1911: Middletown, Ardamine, county Wexford


---
Bernard Richard Johnson
9 December 1895, in Dublin, Dublin North district, county Dublin, Ireland
Philip Bernard Johnson

Elizabeth Charlotte Annie (Pope) Johnson


1911: Bollarney South, Wicklow, county Wicklow


---
Colin Ward Johnson
27 August 1904, in Ireton, Sioux county, Iowa, United States

Donald Goddard Johnson

Annie Margaret (Agnes) Johnson

Dorothy Ann Ogden on 26 December 1930, in Anderson, Madison county, Indiana. Dorothy was born on 8 November 1906, in Wisconsin, and died on 3 April 1987, in Richmond, Henrico county, Virginia.

21 August 1971, in Boulder, Boulder county, Colorado, United States


1920: Sioux county, Iowa


---
Donald Goddard Johnson
22 December 1860, in county Wexford, Ireland
Samuel Johnson

Marianne (Richards) Johnson

Annie Margaret Agnes on 6 April 1889, in Akron, Plymouth county, Iowa, United States. Annie was born on 17 January 1867, in Milwaukee, Milwaukee county, Wisconsin, the daughter of Michael Agnes and Christina Aleft. She died on 29 July 1943, in Milwaukee, from myocarditis, and is buried in Pleasant Hill cemetery, Ireton, Sioux county, Iowa. The grave is located south of the E-W entrance roads, row 27 west of Cty Road K30.
1870: Sioux City, Woodbury county, Iowa
1880: Preston, Plymouth couty, Iowa


Farmer

Donald emigrated to the United States in 1881, and was a naturalized citizen by the 1900 census.

6 June 1935, in Spirit Lake, Dickinson County, Iowa, United States

Pleasant Hill cemetery, Ireton, Sioux county, Iowa, United States. The grave is located south of the E-W entrance roads, row 27 west of Cty Road K30.


1900: Eagle township, Sioux county, Iowa
1920: Sioux county, Iowa


---
Donald Kenneth Johnson
30 June 1897, in Ireton, Sioux county, Iowa, United States
Donald Goddard Johnson

Annie Margaret (Agnes) Johnson

Evelyn Miller. Evelyn was born on 28 March 1897, and died on 11 February 1989, in Charlotte, Mecklenburg county, North Carolina.

Food Inspector

19 December 1971, at Valley Baptist Hospital, Harlingen, Cameron county, Texas, United States, aged 74, of acute myocardial infection, a complication of diabetes.

Valhalla cemetery, Milwaukee, Milwaukee county, Wisconsin, United States.


1900: Eagle township, Sioux county, Iowa
1920: Sioux county, Iowa
1945: E. Hartford Ave., Milwaukee, Wisconsin (

The Milwaukee Journal

10 June 1945)
1971: 2604 E. Hartford Ave., Milwaukee, Wisconsin (death certificate)


---
Dorothy Anne Johnson
17 January 1906, in Iowa, United States
Donald Goddard Johnson

Annie Margaret (Agnes) Johnson

Chemist, United States Army

24 February 1990, in Estes Park, Larimer county, Colorado, United States

The photo opposite shows that Dorothy was intended to be buried alongside her sister Frances in Pleasant Hill cemetery, Ireton, Iowa, but the lack of a death date on the headstone leads me to believe that she was not actually buried there.


1920: Sioux county, Iowa


---
Edward Wynne Alston Johnson

4 July 1908, in Dublin, Dublin South district, county Dublin, Ireland
Philip Bernard Johnson

Elizabeth Charlotte Annie (Pope) Johnson

Eleanor Kirkpatrick in 1936, in Dublin South district, county Dublin, Ireland

1951


1911: Bollarney South, Wicklow, county Wicklow


---
Emily Sophia (Johnson) Watson

28 May 1868, in county Wexford, Ireland

Samuel Johnson

Marianne (Richards) Johnson

Arthur B. Watson. Arthur was born in 1864, and was a solicitor in Dublin.


1911: 14 Belgrave Road, Monkstown, county Dublin


---
Emily (Johnson) Dames
9 April 1894, in Dublin South district, county Dublin, Ireland
Philip Bernard Johnson

Elizabeth Charlotte Annie (Pope) Johnson

Kenneth L. Dames in 1924, in Rathdrum district, county Wicklow, Ireland. Kenneth was educated at Oxford University where he obtained a M.A., and was headmaster at Harlow College in Harlow, Essex, England from 1939 until 1962.

Kenneth and Emily were both keen archers. This photo of Emily plucking her arrows from the target during practice on 16 July 1948 is titled "Archery Champion" and notes that Mrs K. L. Dames is a possible candidate for the British team at the annual World Archery Championships in Dulwich.


1911: 14 Belgrave Road, Monkstown, county Dublin


---
Frances Johnson
15 July 1853
Samuel Johnson

Marianne (Richards) Johnson

A trained nurse, who served as a missionary in China.
Frances sailed for China on the

Glenfruen

on 20 October 1888, as part of the Fuh-kein Mission (p566) of the Church of England Zenana Missionary Society (C.E.Z.M.S.). The instructions to the group (

India's Women

vol 8 p292, 1888), at a leave-taking before departure included:
You,

Miss Johnson

, go to strengthen our Fuhkien Mission. To this work six ladies are now designated, and you will be the fifth actually in the field. We thank God that we have been able to comply thus promptly with the request of the Fuhkien Missionary Conference, and extend our work beyond Foochow to the important outstations, Kucheng and Fooningfoo.

A detailed accout of this journey of the

Glenfruen

appears in the

Church Missionary Gleaner

, in three parts Jan 1889, Feb 1889 and Mar 1889. The last installment mentions that, on arrival in Hong Kong "some went to start the Misses Newcombe and Miss Johnson, C.E.Z.S. on board the

Namoa

, for Fuh-Chow."

In 1890, Frances and Miss Inie Newcombe arrived in Ciong-Bau to open work among the women in the area. (

Cameos of a Chinese City

by Mary E. Darley p106) In October 1890, Frances was the first missionary to spend a night in the city of Kien-Ning, a walled city sometimes referred to as the "Jericho" of the province.


The history of the Church Missionary Society: its environment, its men and its work

pp568 by Eugene Stock (1899)
The first missionaries to spend one night within that great city were two C.E.Z.M.S. ladies, Miss Newcornbe and Miss F. Johnson, invited by the father of their language-teacher. They could scarcely believe that they were really there for a night, but they found the secret in

Daily Light

for the day, October 31st, "Not by might, nor by power, but by My Spirit, saith the Lord."

The incident is also referred to in

Cameos of a Chinese City

by Mary E. Darley pp154-155
Miss Inie Newcombe and Miss Johnson went quietly in from Ciong Bau, at the urgent request of their language teacher, then himself an inquirer, who wished that his women-folk should hear the Truth for themselves. They stayed two days in his home, and were treated as honoured guests.

The missionaries work was not always welcomed. In 1892,

The Review of the churches: a constructive quarterly

, vol 2 p276 reports that:
The house occupied by the Misses Johnson and Newcombe, of the C.E.Z.M.S., was attacked by a mob on April 27th, and the ladies were exposed to insults for three hours until rescued by a Mandarin
...
We are thankful to learn, says the

Church Missionary Gleaner

, that a private letter from Miss Johnson has been received, written since the outburst of April 27th, and reporting that the people had quieted down again.

but later that same year, at Kien-yang, a little further inland, a similar incident occurred.


The history of the Church Missionary Society: its environment, its men and its work

pp568
On October 8th [1892], Mr. and Mrs. Phillips were rescued by the chief mandarin from a murderous attack at Kien-yang while their house was being covered with similar filth inside and out. Miss Newcombe and Miss Johnson also were treated with violence. But the riots were only temporary, and after a time all the work was courageously carried on as before;

Frances established a small women's hospital at a mission centre in Nang-wa, about twelve miles from Kienningfu. She was visited there by Robert Stewart who wrote in a letter to the CEZMS on 20 November 1894 (

Robert and Louisa Stewart: in life and in death

pp103-4 by Mary E. Watson, Eugene Stock, 1895):
"There only remains to speak of the far North-West, where Nang-ua is the Mission centre for your ladies. It is four days' journey over high mountains from Ku-cheng. I visited them at the beginning of the year. and found there Miss Johnson, Miss B. Newcombe, Miss Rodd, Miss Bryer, Miss Fleming; they have also among them a Miss Sinclair, who has come from England independently, and is making herself useful in various ways. These devoted ladies are living as nearly like the native women as possible; no knives or forks are seen in the house. I am told there is one knife kept for any unhappy guest who cannot manage with chop sticks, and though the locality is far from a healthy one, and our C.M.S. missionaries have one after another felt the effects of the malaria, your ladies have wonderfully maintained their strength. You know the kind of life they lead, visiting from village to village, sometimes at long distances from home, putting up, not at chapels or Christians' houses, for alas! there are none, but in the native inn, or the house of some hospitable heathen woman; and God is using them. It is truly invigorating to the soul to sit down and listen to these devoted ladies telling of the spiritual work they have themselves witnessed.
"Oh for more of these 'women that publish the tidings.' They have, too, a little hospital here in Miss Johnson's charge, and they have also been able to start a small 'Station Class,' though in doing so they had to face difficulties which were not met with in the older districts.

It was not just chopsticks - Frances also adopted native dress as we read in

The sister martyrs of Ku Cheng

(D.M. Berry), of a time when Frances was in Foochow nursing Mrs. Rigg in December 1893.
I think the natives must be rather amused at the variety of our costumes Mr. Stewart in his clergyman's clothes; Mrs. Stewart, Topsy, and I in our ordinary things ; Frances Johnson in native dress ; and Mr. Starr in a tourist's costume, with a Norfolk jacket, knickerbockers, and magnificent plaid stockings.

She also had a humourous outlook on the Chinese response to Westerner's speaking poor Chinese (ibid)
Frances Johnson says that when anybody who is beginning says anything, but in somewhat indifferent Chinese, they will say 'How well she speaks Chinese! What is she saying?' all in one breath.

It was the practice of the CEZMS missionaries to take a Chinese surname which would be easier for locals to pronounce, and Frances was knows as Song. (

Cameos of a Chinese City

by Mary E. Darley p123)

In 1893, Frances wrote this report on the mission hospital in Nang-Wa, for

India's Women

vol 13 pp552-555, a publication of the Church of England Zenana Missionary Society:


NANG-WA KIONG NING PREFECTURE.

Our Hospital.

BY MISS FRANCES JOHNSON.

"God be merciful unto us and bless us, and cause the light of His countenance to shine upon us ; that Thy way may be known upon earth, Thy saving health among all nations."

Last year I was only able to tell you of one patient having been in our hospital; even now, though it has been opened more than a year, we feel it is only

beginning

to inspire confidence. Only seventeen have ventured in, but we have visited a good many sick in their homes. Most of the in patients have come from a distance, some have had two days' journey. A good many had heard of the hospital, and gained courage to come through the visits of some of our number who have been itinerating.
Our breath was almost taken away one day by the arrival of a party from a

Yamun

some three days' journey off. It was No. 2 wife of a mandarin, escorted by her husband's nephew and two attendants. Her visit was short, and we were not very sorry when they decided to return home. They had consulted every Native doctor first, and as a last hope, thought the foreigner might work some miraculous cure. But when they found that the opium-pipe could not be allowed, and that patience would be needed, they did not care to stay. The patient was such a pretty, gentle-looking girl, and very frail; but she had an unpleasant way of going into hysterics, to frighten her attendants into giving her opium. One wonders why they were sent! I believe every patient represents some purpose of the Master - mostly thirsting souls, whom He brings within reach of the Water of Life. But these were Mandarin-speakers; they did not understand us, nor we them; we had to carry on all our communications through an interpreter, our teachers, or by signs and gesticulations, so we could not tell them

the

message. No doubt the purpose will hereafter be revealed. They seemed pleased at their reception, and presented $2 to the hospital.
One poor old woman has left the shelter of the hospital, we believe, for the Home above. She lived in the place as caretaker before we took it, and having few friends and no relations willing to receive her, was rather cast on our charity. She listened with interest from the first. I confess I was slow to accept her attention as genuine, it was so manifestly an idea that to "eat the doctrine" would be profitable; but after a while we felt sure that, whatever her original motive may have been, she really had been drawn by the love of Christ to desire Him for herself, and was trusting in Him for forgiveness and salvation.
We feared her death in the hospital might frighten people away, but God has overruled it otherwise; He inclined the heart of her daughter to come with her husband from a distance to bury her, and so guarded us against the accusation of our taking out her eyes, &c, to make into medicine - a very common supposition all round. They are truly an unreasoning people! One would think, if they could suppose us capable of such acts, they would not give much credit to our word to the contrary; and yet they seem quite satisfied that we are speaking truth when we deny it. One thing often strikes me: they believe implicitly in

our

word, whilst they themselves look upon lying and deceit so lightly, and are so suspicious one of another, except in the matter of lying stories of the foreigners, which they are prepared to swallow wholesale, no matter how absurd. The visit of Miss Rodd and Miss Bryer to Nang-Chong in June brought in no less than eight patients, a party of six from one village! One young woman, in rapid consumption, has just returned to her village to die - the sting of death gone - so happy and bright, rejoicing in the Saviour, and looking forward to going Home to Him. Her husband came to fetch her home rather suddenly, which prevented her being baptized before she left. An elderly woman, too, who came with a wee daughter-in-law, in hopes of the poor child's sight being restored - alas! a vain hope - has, we believe, accepted the Gospel.
Another old woman about whom we are very hopeful, came shortly after from a neighbouring village. Her son came one day to ask if anything could be done for her eyes. I told him I feared from his description that it was too late, but that we should be very glad to receive her, if she liked to come on the chance. I did not encourage him, seeing they were poor, and the journey very expensive for them. She came. She had just heard that there was a God Who could save her, and that she need only

think

of Him, and was longing for more light; she thought there was a hope for her in her blindness, even if her sight could not be restored. She had been a frequenter of the temple to "

naing geng,

" i.e. "recite prayers," but when she lost her sight she could go no more - and

that

hope of attaining merit was gone. One day some of her temple friends came to tell her that two foreign sisters had been to the village, and had told them that their worship was useless and could not save them, but that there was a God Who

could

save them, and that they needed only to "think" of Him, so that would suit her!
They had not taken in much of the Truth, and I do not know whether they were willing to receive the message for themselves; but it "set

her

longing," and God gave her the opportunity. Very eager she was to learn to worship; she received teaching as a little child, and continually said, "I did not know before, but now you teach me I will worship God with a true heart and with all my mind." Of her own accord she declared that when she went home, she would throw away all her apparatus for the worship of "Ho" (Buddha), "For you know," she said, "

one

person can only think of

one

thing! and if I think of God, I can't think of 'Ho.'"
It is curious to notice how their previous ideas of worship colour their changed faith. She was very anxious that I should write her name on a piece of paper and burn it, that it might go to God, and so let Him know she was a worshipper and His disciple, and was very pleased when she learned that He already knew and received her, and that she should have His Name signed upon her, and be received into His Church on earth. We hope that some of us may be able, in a short time, to visit the villages where these people live, and if those who, we hope, have trusted in Jesus have continued steadfast, and stood the test of confessing Christ in their homes, that they may be prepared for baptism.
Our original first patient came in again this year, and I believe God made this visit the means of deepening His work in her soul. She is a very lively little person, a great talker, and goes by the name of the "Cricket." We hope she may one day exchange this for a "Christian name," but, so far, she has not made up her mind to leave go of that to which from custom she is in bondage, though indeed she was never much of a devotee. I think she has no longer any belief in "Ho," but she believes in the

truth

of Jesus Christ and His salvation.
We have great cause to be thankful to our God for the treasure He has given us in our Bible-woman; she is earnest and devoted, and throws herself heart and soul into winning souls for the Master. She loves the patients, and does things for them that are not really her work, and that no outsider would do for any money, and she puts up patiently with all the trouble they frequently give her. She is taking charge of the hospital while I am away in the hills for a while. There is at present only one patient, who does not require much nursing, skill, or attention; of course she will send for us if anything serious comes. This place - A-Cua - is within four hours of Nang-Wa, so I can visit the hospital now and then.
Our hospital is not by any means built on the newest approved style; it was just a large empty shed belonging to our house, and forming the opposite side of the court. We had to floor it and put up a few partitions. Our women's sitting room is by the gate opening into the court, so that a good many women turn in as they pass along the road to or from the town, at the end of which we are situated. The walls of the sitting-room are made bright with scrolls, on which, in Chinese character, are the Ten Commandments, Lord's Prayer, Creed, &c, and between them red and green narrow scrolls with gold-paper characters. These were presented to the women's hospital by the Rev. H.S. Phillips; he had some money to use for something in memory of his mother, sent by a Sunday-class of girls in England whom she had taught and interested in missionary work, so he thought a woman's hospital would be the most suitable place to receive the honour. We hope these scrolls may speak to the women of the love of God, the One Father of all, Who can put His Spirit of love and compassion into the hearts of His children in England towards their poor sisters in heathen darkness, and unite them all in one family.
Will all who read this pray very earnestly that this hospital may be made a great blessing in this district, and that our God may bring in a great many souls to know His saving health? I think it is very encouraging work. Those who come in have a quiet time, away from household cares and disturbances, to think over what they hear, and to get a good grasp of the Truth. Often, too, their minds are prepared and softened by their illness, and brought to think of a hereafter.
About the town of Nang-Wa itself we feel very sad; it is indeed a thoroughly corrupt place. The women are very friendly, and have been very willing to listen, and many seemed interested; but now we have got a little below the surface, and pointed out to them

the

sin which must be given up if they are to hope for salvation, they draw back. There is great need for rescue work in Nang-Wa, and the large towns and cities more particularly, and, so far, we do not see our way to doing anything in that line.
Just now the prospect of extension is not promising; we womenfolk are forbidden by the Consul and Archdeacon to go to distant places till some menkind have gone first to open the way. The C.M.S. are trying to do this at Kien-ning and Kien-yang, but it is a hard and slow work. Just when they think things are getting peaceful and settled, a shock of earthquake - to speak figuratively - occurs. But though the great need of the district at present is men to go forward and open up the ground, yet there is plenty of work for any number of ladies too. Large and small villages, scattered thickly all round Nang Wa, are quite ready to receive God's messengers. Those who have heard are few in comparison with those as yet unreached. The time is short, "the Lord is at hand."
Pray for us the prayer of 2 Thess. i. II, 12.


August 5th, 1893.



and this follow-up report was published the following year (

India's Women

vol 14 pp554-557):


NANGWA.

The Women's Hospital, Nangwa-Ke.

Kien-Ning Prefecture of Fu-Kien Province.

BY MISS JOHNSON.

ALTHOUGH the second year of our work in the women's hospital at Nangwa-Ke has perhaps not been quite so prosperous as last year, yet we would ask you to join us in giving thanks to God for much blessing which has rested on it. This year the number of in-patients has only been seventeen: the falling-off is not surprising, since there has been no English doctor during the greater part of it. Owing to serious illness, Dr. Rigg was obliged to leave for Foo-chow, and afterwards was invalided home. He left the hospital in charge of students, who also attend the women's hospital, but the Natives do not think nearly so much of them as of a "foreigner." I have not got the number of out-patients at hand, but one hundred would be under rather than over the mark. These are not all at Nangwa; those of us who go to stay in the villages, generally take medicines for such simple cases as we understand ourselves. We are, of course, expected - in virtue of being foreigners - to understand the healing art! and we see so many cases where a very simple remedy would give relief and avert serious consequences, that common humanity compels to do something. Help in sickness sometimes makes the people more friendly, and shows them that we care for and sympathise with them.
This year two of our patients were opium cases. Among the

women

in this part we do not meet with many who are victims of this vice. I am told that among the rich it is not uncommon; where the men of the family take it, it frequently spreads to their women-kind. Among women of immoral character it is also common.
Our first opium patient, however, belonged to neither of these classes. Her husband is a tailor, and had smoked opium many years, so she, too, had fallen into the habit. She was a fortnight in hospital. At first it was evident she was determined not to believe anything of the doctrine which she knew we taught. She simply wished to make use of our hospital to be cured of the effects of opium. She listened stolidly with a look that plainly said, "You can talk away.

I'm

too sharp to be taken in by you.

I'm

not going to be influenced by anything you may say," but He Who, when "lifted up, will draw all men," awakened in her heart a longing against which she could not hold out. She confessed before long that she believed what we told her was the truth and very much to be desired; she went so far as to kneel in prayer with us every day, she even herself prayed, confessing her sins and asked for pardon.
But there was a stumbling-block to becoming a Christian which she herself soon perceived: she and her husband were "eating the idol's rice" - they were caretakers of a club and temple combined - and they were required to burn incense daily to the idols. The husband having sent his wife to be cured of opium - as an experiment - followed her example, and he too, while in hospital, became interested and convinced of the Truth; but, alas! there they have stopped. So far they have not come to a decision to let go almost their only means of support and to trust God to take care of them. Both are old, and they have no children; the man's eyes are getting too dim to do much. One can see his wife is just longing to possess Jesus Christ and to have His pardon and peace. It is a very sad case. In China it needs to be desperately in earnest to obtain the pearl of great price. Many in our own land, who have known and proved God true for years, would hesitate to trust thus wholly; and they, poor people, know so little about God. Yet others have tried and proved His faithfulness. We must pray on and believe and expect for them that His grace will conquer. No other means of livelihood, so far, seem to offer, and we dare not lead them to trust in the

foreigner

for support.
Another patient was a poor little woman who lived in a house full of men - father-in-law, husband, brother-in-law, and uncle - all sunk in the vice of opium-smoking. What wonder that she, too, fell a victim? She had had several children, who all died in infancy: the last - a boy of a few years old - had been sold for an opium debt! She heard of Him Who had come to set the captives free, and she longed to be delivered. Miss Rodd and Miss Bryer - visiting her village for the first time with the Gospel - pitied her and offered to take her back with them to Nangwa to be cured. She got through the cure marvellously easily, looking so cheerful all the time, a great contrast to most people under such circumstances. It was God Who helped her, she said. She heard eagerly the story of the Saviour's love, and went home determined by His grace to serve and confess Him. We have heard good accounts of her. Her brother-in-law has since been cured, and I hear her husband has also lately given up opium-smoking. Will you join us in praying that they may be kept, by the power of God, unto salvation?
Another patient, daughter-in-law to the first, was converted during her stay in the hospital. The whole family have since become Christians, but this young woman is the brightest. She came to us when Miss Bryer was holding her station class in an empty room of the hospital, and thus met several other women who were either already Christians or interested. As she expressed it, it gave the lessons so much more

taste

when there were several learning together.
We feel that God's blessing has been resting on the hospital, and praise Him for it, hoping that next year the numbers will increase. We do not know if we shall have an English doctor before Dr. Rigg's return in about another year. We are praying that he may be sent back to us in the Kien-Ning District. His devotion to his work, and kindly, sympathetic manner with the patients, make him a great favourite.
You will perhaps have heard that a new C.M.S. hospital has been built just outside Kiong-Ning City. The old one at Nangwa will only now be kept open as a dispensary and opium-refuge. The C.M.S. grant was not sufficient to include a women's part, but funds for this have come in specially, so we hope soon to begin to build and remove up there and close our temporary hospital quarters at Nangwa. The mandarins have requested that there be no more building started till what has been already opened is more established, and public feeling more quiet. The delay is not very important, as there is a Native doctor at Nangwa, as well as at the new hospital - one of the men trained by Dr. Rigg.
Owing to the kind help of Miss Sinclair in the hospital, I have been able to leave it occasionally for visiting in distant villages this year, and so have been able to follow up some of our former patients, finding some of them very satisfactory. One dear old blind woman is trusting in Jesus, and has been telling others of His love. Her grand-niece said, "I, too, worship Jesus; my aunt taught me to pray to Him."


Sept. 13th, 1894.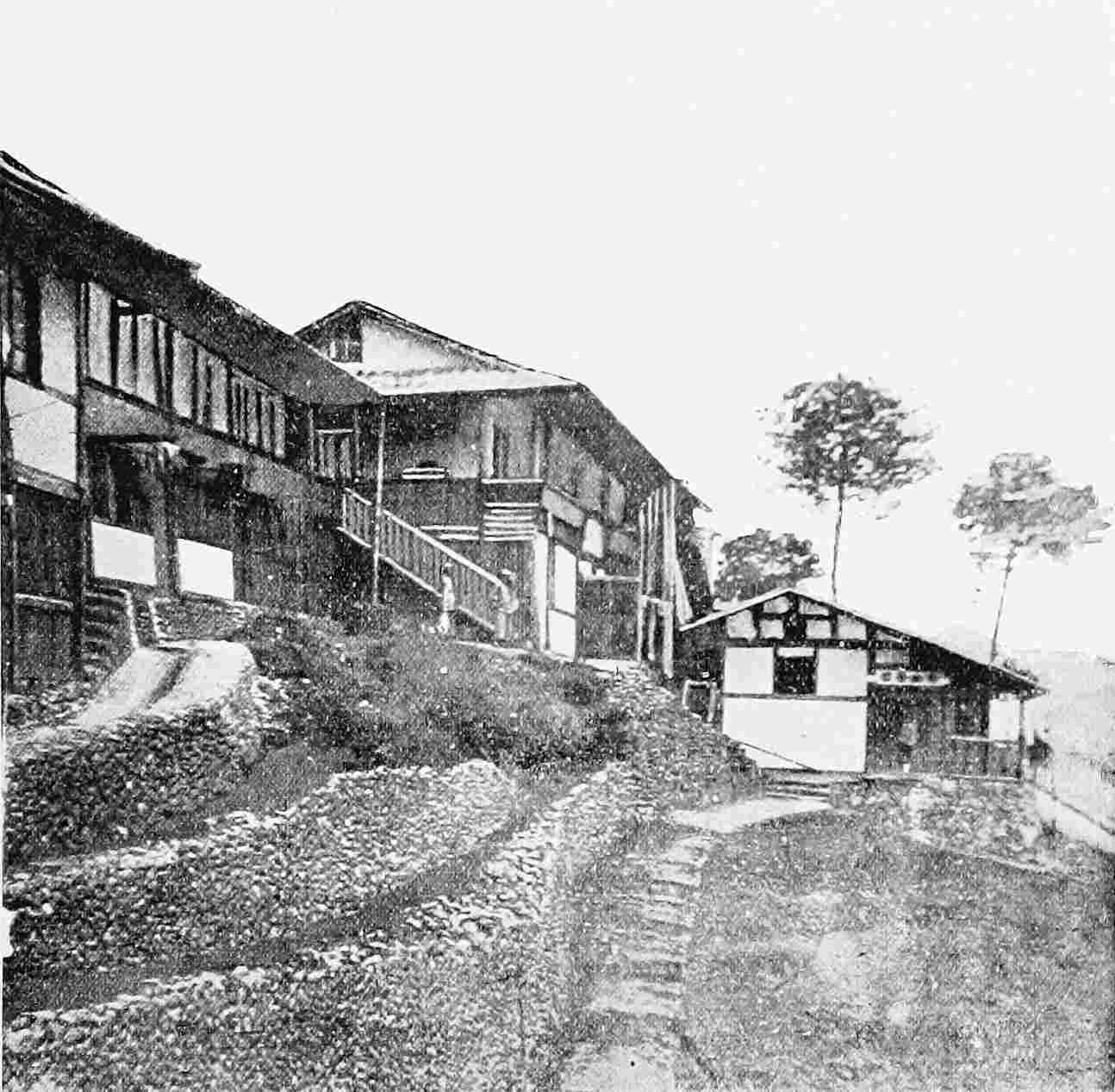 In 1894, the womens' hospital at Nang-wa was moved to Seven Stars bridge, a mile from Kien-Ning at the site of the new C.M.S. hospital, and, as described below, the hospital was planned to move into Kien-Ning city in 1902, into a C.E.Z. building bought with money given in memory of Frances's brother-in-law, James Stratford Collins, who had died in 1897 also working as a missionary in Fuh-kien province.


The light of the morning : the story of C.E.Z.M.S. work in the Kien-ning Prefecture of the Fuh-kien Province, China

by Mary E. Darley (1903) p19


The beginning of C.E.Z. medical work among women in

Kien-Ning Prefecture was made by Miss F. Johnson, a qualified

nurse, at Nang-Wa, while, as Dr. Rigg describes in the foregoing

pages, the C.M.S. was also carrying on its medical work from

that centre. But when, in 1894, the C.M..S. Hospital was

moved to Five Li Rest House, or Seven Stars Bridge (though

there is no bridge !), a mile outside Kien-Ning City, it was not

convenient to have the women patients at Nang-Wa. Miss

Johnson, therefore, transferred her work to temporary rooms in

the C.M.S. Hospital compound, and shortly afterwards the

present Seven Stars Bridge C.E.Z. Hospital was built on the

highest part of the compound, where it remained undamaged by

the flood of 1900.


Miss Johnson hopes to transfer the Women's Hospital this

coming November (1902) from Seven Stars Bridge to the house

in Kien-Ning City, bought for C.E.Z. work in 1899, with money

given in memory of the Rev. J. Stratford Collins. To this

house a second storey has been added, making it suitable for a

hospital. The cost of the adaptation has been defrayed by the

Dublin University Fuh-Kien Mission. The present Women's

Hospital at Seven Stars Bridge will be used for school or station

class purposes.



In 1899, during the Chinese New Year celebrations when missionary work could not be actively carried out, Frances and Mary Darley spent six weeks visiting the various mission stations in Fukien province. The journey is described in Mary's book

The light of the morning : the story of C.E.Z.M.S. work in the Kien-ning Prefecture of the Fuh-kien Province, China

by Mary E. Darley (1903) pp126-135:


This year Miss Johnson and I decided to spend

some weeks in visiting the various mission stations

throughout the Province. So one morning we

started from Kien-Ning in a small native rat

boat, which brought us to Foo-Chow in three

days, where we received from Miss Stevens her

never-failing welcome to "The Olives." Having

been up-country for over a year, we thoroughly

appreciated the joy of meeting our friends again,

and the accounts they gave of work in the city,

schools, hospital and surrounding villages, were

most encouraging.




A short visit to Foo-Chow is decidedly over

whelming. Interviews with the tailor, curio

vendor, dentist and, probably, the photographer, are arranged without delay; while the intervals are filled in with shopping and sending parcels home. It means quite a little whirl of excitement, which, for us, only subsided when we found ourselves in a house-boat on the way southwards to the Hing-Hwa Prefecture. A night spent on board, followed by a chair journey of a day and a half, principally through the district of Hok-Chiang, brought us to Dang-Seng, where Miss Tabberer, Miss Reid, and Miss Dopping Hepenstal were working and rejoicing in the blessing given in a girls' school only lately opened, and in the numbers of patients daily coming to the dispensary for treatment. From Dang-Seng, we went to Hing-Hwa city, travelling for some hours along stone-paved pathways, winding through flat, cultivated, wind-swept plains, here and there intersected by canals, the sea glimmering on the horizon, and bare rugged hills rising sharply from the level stretches.


Hing-Hwa city, in which we spent a few very

pleasant days, through Dr. and Mrs. van

Someren Taylor's hospitality, is very beautiful.

Viewed from its wall, which is in splendid

condition and makes a delightful walk, it resembles

a vast undulating orchard, with the peaked red

roofs of houses appearing through the trees.




There was much of interest in connection with

the work, especially the medical branch, to which

the wide-spread knowledge of Christianity in

Hing-Hwa is mainly due. The well- worked

hospitals are large, and are greatly appreciated

by the natives, who are not so superstitious and

prejudiced as in other parts of the Fuh-Kien

Province.




Then we visited Miss Witherby, Miss Vulliamy,

and Miss Montfort at Sieng-Iu, the third station

in Hing-Hwa, only one day's journey from the

city, but lying in far prettier and more moun

tainous scenery. There we saw the school for

Christian women, in which they were not only

learning to know their Saviour, but also to read

His Word. We saw something of the work of the

native pastor too ? a holy man of God named Deng,

whose life is entirely spent in seeking to win souls

for the Master he so faithfully serves.




And so our happy three-fold visit to Hing-Hwa

passed, and we travelled back to Foo-Chow,

where we rested a day or two, and then started

north-wards, spending the first night at Deng-

doi, a C.M.S. station worked by four ladies from

Australia.




We were particularly interested in a little

school for blind boys, lately opened by Miss

Oxley, who, by means of the Braille system, is

most successfully teaching them to read and

write .




Then, continuing our journey for two days,

we arrived at Lo-Nguong City, where we were

not only welcomed by Miss Wedderspoon and

Miss Clayton, but also by Miss Jackson, Dr.

Florence Cooper, and Miss Blanche Cooper, who

had come in from Uong-Buang, in order to attend

a conference of native workers. We should like

to have seen the leper settlement, Church, and

home for untainted children, but, having arranged

only to spend one night at Lo-Nguong, we just

visited the girls' school, and the site for a hospital

for women about to be built.




A walk of ten miles, memorable because it

included the climbing of a mountain under a

blazing sun, straight up hot stone steps for nearly

three hours, brought us to the bay which must

be crossed in order to reach Fuh-Ning - the

Prefecture allocated to the Dublin University

Fuh-Kien Mission.




But the sea had no terrors for us that night

as, comfortably sleeping our tiredness away, we

lay, rolled up in rugs, on the floor of a fiat-bottomed

boat. We awakened next morning within sight

of the shore, ready for the chair-ride which brought

us to Fuh-Ning city towards evening. We

greatly appreciated the delightful welcome to

the ladies' house given us by Miss Clarke, Miss

Thomas, Miss Clemson, and Miss Greer.




Here a Sunday intervened, which not only

gave us time to see over the large school for girls,

the women's school, superintended by Miss

Harmar, and Dr. and Mrs. Synge's hospitals,

but also to see the Church, in which morning

service was held, filled to over-flowing with

Chinese, who listened attentively while the Rev.

L. H. Star preached in their own tongue of the

mighty works of God.




Then, crossing the bay in another direction,

we came to Ning-Taik City, where there is a

C.M.S. station, in which we spent a night and

part of a day with Miss Boileau, Miss J. Clarke,

Miss Bibb, and Miss Nicholson.




Not far from their house and girls' school

stands the beautiful little Church, known as the

Ning-Taik Cathedral; a native clergyman

having expended upon it his thought and ingenuity

for a period of twenty-five years; carving carefully

selected texts on the woodwork of the chancel-

rails, pulpit, reading-desk, font and pillars, in the

Chinese character which so lends itself to decora

tive purposes.




Resuming our journey, nothing could exceed

the magnificence of the scenery, through which

the road to Sang-Iong, in the Ku-Cheng district,

led us for two days, our senses literally feasting

upon the wonderful beauty of the luxuriantly

wooded mountains and valleys.




It was indeed a privilege to visit Miss Burroughs

and Miss M. Newcombe in their native house

at Sang-Iong, where they are carrying on a work

which has been very richly blessed by our prayer-

answering God.




Sa-Iong, the station at which we next arrived and

where we spent one night was vacant, Miss Codring

ton and Miss Locke-King not having returned from

a journey to Shang-Hai. And then, one whole

day's travelling brought us to the Ku-Cheng

"Olives," where we joined a delightfully large

party; Miss Nisbet and her happy little "Birds'

Nest" foundlings, Miss Wathen and Miss

Leybourn, managing the girls' school with

its sixty-six pupils. Miss Baker and Miss

Ouida Jones studying the language, and Miss

B. Newcombe preparing to itinerate in an out

lying district.


Three days later, we were once more among our

Ciong-Bau friends, and rejoicing together over

the school so long desired and prayed for, now

in full working order. Miss Bryer had opened it

the week before, with twenty-eight girls, and it

was good to see them under her care, not only

learning to read the Bible, but also having many

of the lessons contained therein, imprinted on

their hearts.




Our exceedingly pleasant holiday being over,

we settled down in the Kien-Ning hospital, very

thankful to have had an opportunity of visiting

the various mission stations in the Fuh-Kien

Province and of seeing something of what God

was doing through and for His servants.




But during the six weeks we had spent in

going from one spot of light to another, travelling

between each through villages utterly unreached,

cities hardly occupied, large districts still lying

in darkness, the great, great need for more workers

had been borne in heavily upon our hearts.



In the summer of 1899, a riot in Kien-Ning forced the temporary flight of Frances and the other missionaries to Foo-Chow. The flight is recounted by Mary Darley in

The light of the morning : the story of C.E.Z.M.S. work in the Kien-ning Prefecture of the Fuh-kien Province, China

by Mary E. Darley (1903) pp158-163:


The next afternoon, just as we had met

together for a prayer-meeting, word came that

a riot could no longer be restrained as the

whole city had risen, shops were shut, and man

darins were powerless to arrest the torrents of

vengeance about to fall upon the foreigners,

the Ku-Cheng workers, and the native Christians.




There was no time to be lost. Our servants

at the risk of their lives made three attempts to

procure boats for the necessary flight, the last

only being successful.




In the meantime messages were despatched

both to Mr. Phillips in Kien-Yang, and to Miss

Rodd and Miss Bryer in Ciong-Bau.




Shortly after day-light, we three ladies and

several native women started down the river in

four boats, and that evening arrived safely in

Yen-Ping city, where there is a hospital superin

tended by a former student of Dr. Rigg's.




The Kien-Ning boats would go no further, so

here we spent the night and part of the following

day, while waiting to continue our journey in a

great tea-barge leaving about mid-day, whose

owner was willing, for a considerable sum of

money. to accommodate any number of

passengers.




All through that morning we stood welcoming

the fugitive Christians who arrived at intervals.

Oh the accounts they brought! The reported

murder of Mr. and Mrs. Phillips and Miss Sears,

while escaping from Kien-Yang. The cruel

attack made upon the Christians in the leper

settlement. The flames they had seen "reaching

to the sky " of the new city Church now burnt

to the ground, and many other stories, some true,

some entirely false, others exaggerated, but then

we believed them all, and it seemed as if Satan

had gained a complete victory, and our hearts

ached sorely for the Christians in Ciong-Bau and

the other outlying villages.




Many of the escapes were very wonderful.

"God brought us here, we hardly know how,"

some said as they spoke of being unconscious of

fear, " with hearts all peace."




Then we heard that Dr. Rigg, Dr. Pakenham,

and the native doctors and students, had been

forced to leave shortly after our departure, and

had already reached Nang-Wa.
...


Before we left Yen-Ping, Miss Rodd and Miss

Bryer joined us. Within a few hours they had

dismissed the girls' school, arranged as far as

possible for the natives, and, starting from Ciong-

Bau at evening time, had arrived after midnight

at Nang-Wa, having accomplished a difficult

walk of twelve miles on narrow pathways, in

darkness and torrents of rain.




The remainder of the journey to Foo-Chow

was comparatively easy. As we went quickly

down the river, leaving so many of our native

Christians, humanly speaking alone, to face

persecution and danger, Miss Johnson gave us




a verse which greatly helped us to leave them

restfully in our Father's care "For thus saith

the Lord of Hosts; he that toucheth

you toucheth the apple of His eye."




"Peace, perfect peace ! with loved ones far away!

In Jesus' keeping we are safe, and they."

Oh! So safe when overshadowed by a love

greater than the greatest any human being can

lavish upon another, for the lesser love would

shield its object from pain, while the greater can

allow it to suffer.




There was thanksgiving in Foo-Chow when we

had all safely arrived from the various up-country

stations, and the truest joy when word came

from Kien-Ning contradicting the reported

murder of Mr. and Mrs. Phillips and Miss Sears

and recounting how well the Mandarin had pro

tected them in the Kien-Yang

Yamen

. And,

when a few days later, they reached Foo-Chow

they brought with them a correct account of all

that had taken place during the riot:-the burn

ing to the ground of the lately opened Church in

Kien-Ning city, with the murder of an old Chris

tian man found kneeling inside it; the attack

made upon the leper settlement ; the ill-treating

of the leper Catechist and the destruction of the

lepers' little Church. These, with other acts of

violence, threatenings and slaughter breathed out

by an excited angry mob against all "worshipping-

God people," made us realize most clearly that all

our lives had been spared only because of the

strong hand of our God stretched out to save us.



It was not long, however, before negotiations with the

literati

of Kien-Ning led to the return of the missionaries. The men retuened first, while three of the women missionaries, Frances Johnson, Mary Darley and Miss Codrington went up-country, first to Ku-Cheng and then to the Women's School in Sa-Iong. On 25 October 1899, an agreement was signed compensating the Church for losses in the riots and allowing the missionaries to return. Although only three weeks remained before all the missionaries would return to Foo-Chow for the annual conference, Frances and Mary decided to return to Kien-Ning.


The light of the morning : the story of C.E.Z.M.S. work in the Kien-ning Prefecture of the Fuh-kien Province, China

by Mary E. Darley (1903) pp173-175:


Shortly before this, permission had reached

us who were waiting in Ku-Cheng, to return,

if we considered it worth our while to pay a visit

of three weeks' length, as we should have to leave

again when the gentlemen went to Foo-Chow

in order to attend the Conference.


Miss Johnson and I gladly availed ourselves of the

permission, and immediately made arrangements for

starting, but we found to our dismay that coolies

and sedan-chairs were not to be hired; for those

not already engaged in carrying native Christians

from distant villages to attend a Church Con

ference which was being held in Ku-Cheng city,

expressed themselves both unwilling and afraid

to attempt a journey to Kien-Ning after all that

had taken place there.




We had asked that if we were not to go, some

thing special might happen to hinder the plan.

Was this the answer?




We longed to see our Christians and they to see

us. The suggestion, that we might walk back

entirely falling in with our own wishes, we at

once acted upon it, and set out one morning for

a three days' tramp over beautiful mountain roads,

hoping in the evening of the third day to reach

Nang-Wa, and from there to go on by boat to

our hospital.




It was not an eventful journey, and the friendly

attitude shewn towards us by the people in the

villages which we passed through, helped to make

it pleasant and gave us many an opportunity for

speaking of the Saviour to those who had never

heard of Him before. Then our joy in returning

together, kept the continuous walking from

becoming too wearisome, proving the truth of

the old classical saying "A pleasant companion

is as good as a coach."




Our only mishap turned out so well, that we

were afterwards thankful for it.




We were delayed on the third day; but still,

by pushing on, we hoped to arrive at Nang-Wa

before nightfall. Tired and rather foot-sore we

hurried on. It began to rain. The narrow,

cobbled pathways became slippery; our speed

had to slacken, and our hopes of reaching our

destination that evening gradually faded away.

Darkness was already upon us; where was the

night to be spent ?




"Sisters, come in here, in my house spend the

night."




The invitation came from a woman standing

in the doorway of a road-side cottage, who, in

simple kindness of heart and pity, opened both

her heart and her house to two foreigners, their

load-man and servant-boy, an instance of the

generous trusting hospitality so often to be met

with in China.


Truly grateful to our unexpected and unknown

hostess, we longed to repay her in the only way

we could.




Until quite late that night she sat up listening

to the story of a Saviour's love. We taught her a

few sentences. She repeated them over and over

again. Long before day-light the following morn

ing she came to the loft placed at our disposal,

to hear more of the things of Heaven.




As the first streak of dawn lit up the bare and

dusty room, we left her. Upon the darkness of her

life a gleam of light from the Sun of Righteous

ness had shone at last !




"Jesus, for me forgive sin, for me forgive sin,"

were the words of a little prayer she whispered,

as we parted from her.




" Far and wide, though all unknowing,

Pants for Thee each mortal breast,

Human tears for Thee are flowing.

Human hearts in Thee would rest.

" Dare we let them die in darkness,

When we have the Light of God,

And the life which has been purchased

With the Saviour's precious blood ?

Seek to win them,

Win them back through Christ to God."



"Slowly slowly," it seemed to us, went our

little boat from Nang-Wa that day. About ten

p.m., in bright moon-light, we once more entered

the hospital standing as we had left it that

eventful morning only four months before.

Now strains of praise rang through the empty

rooms, as two happy people, quickly uncovering

the harmonium, sang the Doxology.




What a welcome was given us upon the following

Sunday morning when, after service in our city

house, a little group of Christian women gathered

around us.




"Did not our Jesus keep you from fear, when

you first met here for secret worship ? " we

questioned.




"Sisters," came the beautiful answer, " our

hearts knew no fear, because Jesus was together

with us. Outside, the streets, like rough

tumultuous waters, were all noise, loud voices,

confusion. Inside here, our hearts, like still,

still water, were all peace."



Frances was still in Kien-Ning in 1916, when Mary Darley lists her as doing "city and district work" (

Cameos of a Chinese City

by Mary E. Darley p27)

1 January 1928, in Rathdown district, county Dublin or Wicklow, Ireland, aged 74


---
Frances Johnson
11 February 1890, in Plymouth county, Iowa, United States
Donald Goddard Johnson

Annie Margaret (Agnes) Johnson

Doctor. A physician and surgeon, Frances practiced medicine out of her home in Milwaukee until her death.

Frances was president of the Milwaukee branch of the Altrusa Club, a women's service organization. There are a number of references to her in this capacity in the

Milwaukee Sentinel

and

Milwaukee Journal

(elected as a director in 1946, vice president in 1952, and president in 1953-4)
One reference mentions a post-converntion vacation that Frances took:


Milwaukee Sentinel

26 July 1953 page 2-D, column 1
FOUR MILWAUKEE women, members of the Altrusa Club, combined business with pleasure last week as they travelled to Los Angeles, Calif., for the Altrusa International biennial convention held Monday through Wednesday - taking their vacations either before or after the convention.
Delegates representing the Milwaukee club were Dr. Frances Johnson, president, Esther Pfeiffer and June Rolleston. Dr. Anna L. Hehn, a past president, was the alternate.
Drs. Johnson and Hehn flew to San Francisco and then drove along the coast to Los Angeles. After the convention, they flew to Hawaii for a 10-day vacation. Miss Pfeiffer joined other Altrusa members for the post-convention tour to Bryce Canyon sponsored by the international organization.

Another curious reference mentions Frances's unusual advice at a meeting of the Business and Professional Women's club.


Milwaukee Sentinel

9 May 1929 page 4, column 7
DAY after day we read parts of addresses made for the benefit of women who would reduce.
Now comes Dr. Frances Johnson and, at a meeting of the Business and Professional Women's club, she dares to tell women in business how they can gain weight and work hard at the same time.
"Eat plenty of bread and butter, potatoes and pie," she says.

9 March 1972, in Milwaukee, Wisconsin, United States, aged 82


Milwaukee Sentinel

11 March 1972, part 2 page 14, column 1


Johnson, Dr. Frances




Of 2604 E. Hartford Ave., March 9, 1972, aged 82. Dear sister of Miss Dorothy Johnson, sister-in-law of Mrs. Evelyn (Donald K.) Johnson and Mrs. Dorothy (Colin W.) Johnson and of Robert S., Philip D., Donald S., Peter, Michael O. and Colin D. Johnson and Mrs Ann Sundstrom. Other relatives also survive. Complete memorial services 2:30 p.m. Sun, at FASS FUNERAL HOME, 3601 N. Oakland Ave. The family will receive friends from 1:30 p.m. Sun, until time of services. In lieu of flowers, memorials to the Heart Association, Milwaukee Children's Hospital or the charity of your preference appreciated.



Pleasant Hill cemetery, Ireton, Sioux county, Iowa, United States. The grave is located south of the E-W entrance roads, row 27 west of Cty Road K30.


1900: Eagle township, Sioux county, Iowa
1920: Sioux county, Iowa
1956: 2504 E. Hartman Ave, Milwaukee, Wisconsin (

Milwaukee Journal

16 April 1956)
1972: 2604 E. Hartford Ave, Milwaukee, Wisconsin (death notice)


---
Geraldine Alice Johnson

27 September 1870, in Wexford district, county Wexford, Ireland

Samuel Johnson

Marianne (Richards) Johnson

16 May 1916, in Rathdown district, county Dublin or Wicklow, Ireland, aged 45


1911: 14 Belgrave Road, Monkstown, county Dublin


---
Honor Lucretia Philippa(Johnson) Somerville
26 June 1902, in Dublin, Dublin South district, county Dublin, Ireland
Philip Bernard Johnson

Elizabeth Charlotte Annie (Pope) Johnson

Reginald Malcolm John Bellingham Somerville in 1936, in Rathdrum district, county Wicklow, Ireland. Reginald was born on 14 February 1897, at Clermont, Rathnew, county Wicklow, the son of Bellingham Arthur Somerville and Margaret Hall Clinch. Reginald was previously married to Maude Gwendolyn Constance Violet Moore in 1928 in Rathdown district, county Wicklow or county Dublin.
1911: Newrath, Rathnew, county Wicklow


1911: Bollarney South, Wicklow, county Wicklow


---
Louisa Florence Johnson
28 July 1858, in Ireland
Samuel Johnson

Marianne (Richards) Johnson

28 June 1933, in Gorey district, county Wexford, Ireland, aged 74

St John the Apostle graveyard, Ardamine, county Wexford, Ireland. Louisa's headstone reads:


Louisa Florence Johnson

born july 28th 1858

DIED June 28th 1933


The

Plantagenet Roll of the Blood Royal: The Clarence Volume

p284 by Melville Henry Massue Ruvigny et Raineval (1994) lists Louisa living in Oxford, although the date of this is not known.


---
Mary Isabella (Johnson) Collins
23 August 1859
Samuel Johnson

Marianne (Richards) Johnson

James Stratford Collins on 17 February 1890
The history of the Church Missionary Society: its environment, its men and its work p793 by Eugene Stock (1899):


[James Collins] had married a C.E.Z. lady in the Fuh-kien Mission, one of two Misses Johnson of Dublin, sisters of the present head of the Irish Church Missions to Roman Catholics there.




Missionary in China. It seems that Mary went to China as a missionary of the Church of England Zenana Missionary Society. She married Rev. Collins who had gone out to China in 1887 with the Church Missionary Society and as Mrs. Collins she is often referred to as being part of the C.M.S. rather than the the C.E.Z.
On 31 May 1890, Rev. Collins wrote to the The

Church Missionary Gleaner

October 1890 p162 from their station in Lo-ngwong:


A foreign lady is a new species of "show," and every week many women come to see Mrs. Collins, and each visit results in an invitation to visit in return. The poor Christian women are terribly dark and ignorant, and as a rule do not come to church at all.



9 June 1897, in the wreck of the

Aden

off Socotra in the Mahra Sultanate of Qishn and Socotra (now part of Yemen). After being widowed in China, Mary was returning to England on the

Aden

, which struck Rasradresa reef off the island of Socotra in a storm on 9 June 1897. Three of the four lifeboats were washed away and the last was reserved for women and children, including Mary and her two young children. This boat was launched but never seen again. In total, 78 lives were lost in the wreck, but 45 passengers and crew members were rescued from the

Aden

17 days later.

A memorial to Mary and her husband has been placed in Ardamine Church, county Wexford.


In loving memory of

Rev. James Stratford Collins. C. M. S.

drowned in Min River, China, April 20th 1897 aged 37

buried at Foo Chow

also of Mary Isabella his wife aged 37

Ethel aged 2 and Philip aged 1 their children

and Margaret Hogan their nurse

lost in the wreck of the 'Aden' off Socotra June 9th 1897.


The wreck of the

Aden

was reported in the

New York Times

on 30 June 1897, and this more detailed account appeared in

The Daily Star

(Fredericksburg, Virginia), also on 30 June 1897:


THE WRECK OF THE ADEN
It Resulted in the Loss of Seventy-eight Lives,
AND FORTY-FIVE WERE RECSCUED.
Thrilling Experiences of the Survivors, Who For Seventeen Days Were Held Captive on a Reef, With the Vessel Gradually Breaking to Pieces


Aden, June 30.-The Indian government's steamer Mayor [sic. actually the Mayo], sent out in search of the missing steamer Aden, which was last heard of when leaving Columbo June 1 for this port, has returned here and reports that the Aden was totally lost off the Island of Socotra, at the eastern extremity of Africa.


The captain of the wrecked steamer, some of her officers and crew and seven white passengers, were swept overboard and drowned very soon after she ran ashore.
Eight women passengers, nine children, two officers and a few of the Aden's crew succeeded in getting away from the wreck in a boat, but they have not been heard of since and little hope is entertained of their safety.


The Mayor saved nine of the Aden's passengers and three of the white and 33 of the natives of the steamer's crew. All these persons were rescued just as the Aden was breaking up.




In all, the drowned and missing include 25 passengers, 20 European officers and 33 natives of the Aden's crew.




Two days after leaving Colombo the Aden was struck by a severe monsoon, with squalls, violent and incessant. Day by day the weather grew thicker. At 3 o'clock on the morning of June 9 the vessel struck upon the Rasradresa Reef, on the eastern coast of the island of Socotra.




The engineroom was instantly flooded, and utter darkness ensued. Wild with panic the passengers rushed from their cabins and fled terror stricken to the upper decks in the scantiest clothing. The women and children screamed in freight and confusion, but the men retained their self possession and courageously assisted the officers and crew to do their best to save the vessel and to inspire calmness.




But it was soon seen that the steamer could not survive the shock, and that the only chance for safety lay in the boats. Life belts were distributed, distress signals given and the boats on the lee side prepared for launching. Those on the weather side had already been washed away. In the meantime, seeing that some hours were likely to elapse before it would be possible to launch the boats, the passengers gladly accepted the assistance of the crew to obtain more clothing.




The storm continued to increase in violence. The seas washed the vessel with terrible force. Daylight brought no relief, and only served to reveal still further the awfulness of the situation.

Misfortune followed misfortune. A lifeboat was lowered, only to be swept away immediately, with three lascars and the first officer, Mr. Carden. The gig was dispatched to the rescue, with Mr. Miller, the second officer, but both boats were rapidly swept away.


The only remaining life boat was then lowered amid a scene of intense emotion. A cry of anguish broke from the lips even of the men when this half capsized, throwing the sailors and the stores into the sea. After great efforts the boat was righted and the women and children were lowered into it, with the exception of Madames Gillett, Pearce and Strain, who heroically decided to share the fate of their husbands, and Misses Lloyd and Weller, who remained on board. The boat, manned by a European crew, left in a tremendous sea and drifted rapidly out of sight.
Vast waves still swept the wreck, dashing the people about and leaving them almost prostrate on the deck. One by one, men, women and children, grown too weak to withstand the repeated buffetings, were washed overboard in sight of those who were momentarily expecting the same fate. Among the first thus engulfed were Mr. and Mrs. Strain and their two children; Misses Lloyd and Weller, the missionaries; Mrs. Pearce's baby, with its Chinese nurse, and then Captain Hill, whose leg was broken, but who had borne himself calmly and bravely. He was washed overboard with several of the native crew.
All day the victims were picked off one by one, until 5 o'clock in the afternoon, when those who still survived retreated below. Many were badly hurt, and passed the night in suspense and bodily pain, huddled in the small cabin, which they expected would be their tomb. None of the survivors care to talk of this terrible night.
The storm abated slightly on the morning of the 10th, and those who were able to move began to search for food, hunger, until then, having failed to assert itself over more acute privations. This proved a task of the greatest danger, as big seas were still sweeping the vessel. The fourth engineer, while trying to procure water near the poop, was struck senseless and almost washed overboard before he could be dragged to a place of safety. Artificial respiration and similar expedients were resorted to, but it was five hours before he was restored to consciousness. Mr. Pearce was only saved from being washed overboard by the prompt action of his dauntless wife.
The search for food resulted in their getting very little of it, and this was shared out equally and in very small portions. All the time desperate men kept a sharp lookout. But no vessel was sighted until the 13th, and even then the distress signal was not seen. On the 17th, and again on the 20th, other vessels were sighted, but the signals either were not seen or were ignored.
These unhappy episodes caused painful and half crazy scenes of rage among those who had previously been self controlled. Each day it was necessary to curtail the allowance of rations. Mrs. Gillett did the catering and contributed greatly to the cheering up the ships company.
The weather usually moderated in the morning, but always increased in violence during the afternoon. Frequently a sea 30 feet high would sweep the deck from stem to stern and carry away portions of the vessel.
On June 25, when things were at their worst, and the food supply was almost exhausted, Messrs. White, Kelt, Cave and Valpy bravely ventured across the well deck to the storeroom and got a fresh supply. That evening two steamers were sighted. One proceeded without paying any attention to the distress signal. The other anchored under the lee of the island. As soon as was sighted a lascar mounted the rigging and signaled her. In reply candles burned at her portholes, and at daybreak on the 26th, a suspense of 17 days was relieved by the spectacle of the steamer rounding the point and heading towards the wreck. She dropped anchor about a mile away.
A very heavy sea was still running, but the wind had moderated slightly. With heartfelt joy, mingled with tears of the men and hysterical sobbing of the women, they saw the lifeboat lowered. It took her three-quarters of an hour to reach the wreck. Everyone rushed to the broken side of the ship. It was the lifeboat of the Indian government steamer, in charge of Lieutenants Dobbin and Goldsmith. They skillfully avoided the tremendous wash, and rescued all the survivors in two trips.
Every attention was paid to them on board the Mayor. Their health is improving, and they sailed homeward today on the steamer India.

This account implies that Mary and her children were in the missing lifeboat, but does not state that explicitly. However, The history of the Church Missionary Society: its environment, its men and its work p793 by Eugene Stock (1899) contains the note:
Mrs Collins sailed for England with her two children, and joined the ill fated P. & O. steamer

Aden

at Colombo. On June 9th, the ship was wrecked on the coast of the Island of Socotra. Mrs Collins and her children were put into the one lifeboat that was successfully got off; and that boat was never heard of again.


---
Norah Johnson
1897, in Dublin North district, county Dublin, Ireland
Philip Bernard Johnson

Elizabeth Charlotte Annie (Pope) Johnson

1897, in Rathdown district, county Dublin or Wicklow, Ireland, aged 0


---
Patricia Beatrice Johnson

1904, in Dublin, Dublin South district, county Dublin, Ireland
Philip Bernard Johnson

Elizabeth Charlotte Annie (Pope) Johnson

Her name appears as Patricia Beatrice Johnson in the birth registration index, but in the 1911 census as Norah Patricia Johnson.


1911: Bollarney South, Wicklow, county Wicklow


Ireland Birth Index (2Q1904 Dublin South vol 2 p656); exact place from 1911 census
1911 census
---
Philip Bernard Johnson
Reverend 16 October 1866, in county Wexford, Ireland
Samuel Johnson

Marianne (Richards) Johnson

Trinity College Dublin, receiving a B.A. in 1892, and, later, M.A.

Elizabeth Charlotte Annie Pope in 1893, in Donegal district, county Donegal, Ireland. Elizabeth was born in 1867, in Donegal district. Elizabeth was the daughter of Richard Pope, M.D.

Clergyman
The Irish Church Missions web site lists:


Rev. Philip Bernard Johnson

(Superintendent 1894-1902)
Having worked for ICM in itinerating evangelism around Ireland, Mr. Johnson became a curate in the Mission Church in 1892. From a missionary family from Wexford, two of his sisters served in the Dublin University Fuh Kien Mission in China. During his time as Superintendent over 100 adult converts were received into the Church of Ireland and hundreds of street children, who attended the Mission Homes and Schools, were confirmed. In 1902, when Mr. Fishe returned to ICM, Mr. Johnson took special charge of ICM's itinerating evangelism work, visiting Mission stations throughout Ireland. He later became the incumbent at Wicklow for 19 years during which time he was made Canon of Christ Church Cathedral, Dublin. He died in 1926.
2 July 1926, in Rathdrum district, county Wicklow, Ireland, aged 59


1911: Bollarney South, Wicklow, county Wicklow


---
Robert Edward Johnson
17 July 1864, in Ireland
Samuel Johnson

Marianne (Richards) Johnson

7 April 1883, in Wexford district, county Wexford, Ireland, aged 19

St John the Apostle graveyard, Ardamine, county Wexford, Ireland. Robert's headstone reads:


In

memory of

R

OBERT

E

DWARD

Johnson

SON OF

S

AMUEL

J

OHNSON

WHO DIED 7

TH

APRIL 1883

AGED 19 YEARS.

HE THAT BELIEVETH IN ME, THOUGH

HE WERE DEAD, YET SHALL HE LIVE



---
Robert Samuel Johnson
22 November 1891, in Ireton, Sioux county, Iowa, United States
Donald Goddard Johnson

Annie Margaret (Agnes) Johnson

Iowa State University, graduating as a civil engineer in 1914.

Civil Engineer. Lieutenant (Civil Engineer Corps), United States Navy. Robert was seconded to the Royal Canadian Navy to oversee the initial site selection and preparation of a naval air station to protect shipping against U-boats, at North Sydney, Nova Scotia, in August and September 1918



Naval Air Station North Sydney

by Peter Lawson pp84-5


ROBERT S. JOHNSON, Lieutenant, Civil Engineer




Lt. Robert Samuel Johnson, son of Donald G. and Annie Johnson was born in 1891 near Ireton, Iowa and graduated as a civil engineer from Iowa State College in 1914. He worked for two years before attending the United States Naval Academy in 1917. Early in the summer of 1918, he was given a secondment to serve with the Royal Canadian Naval Air Service to assist in the initial development of Naval Air Station North Sydney, in Nova Scotia. The station was to be operated by the USN at the request of the Canadian Government.


Sadly, Lt. Johnson contracted the Spanish influenza while in North Sydney. It was decided that he would be immediately transported to a hospital in Ottawa, Ontario, his home base, but pneumonia set in and he passed away on October 13, 1918 at the age of 27.



Naval Air Staion North Sydney

by Peter Lawson pp42-3
To: Chairman, Nova Scotia Steel and Coal, New Glasgow, N.S.
From: Deputy Minister, Canadian Naval Service
Date: August 6, 1918
Telegram. Official request for temporary use of North West Bar, North Sydney (Indian Point) for purpose establishing air station for coast protection, Lieut. Johnson, USN now lent to Canadian Naval Department in connection with air service engineering will call on you tomorrow. Stop. Please grant use of this property if possible. Stop. Department prepared to pay reasonable rent for same. Stop.

13 October 1918, in Ottawa, Ontario, Canada, of pneumonia, a complication of Spanish flu.


Officers and enlisted men of the United States Navy who lost their lives during the World War, from April 6, 1917, to November 11, 1918

p30 (1920)


JOHNSON, ROBERT SAMUEL, lieutenant (Civil Engineer Corps), United States Navy.




Died : At Ottowa, Ontario.




Date: October 13, 1918.




Cause: Disease (pneumonia).




Next of kin: Donald G. Johnson (father), Ireton, Iowa.


Appointed from Iowa.

In a letter from Lieutenant-Colonel Cull to the Director of Naval Services, on 15 October 1918, reproduced in

Naval Air Station North Sydney

by Peter Lawson p48:
It is deeply regretted that Lieutenant Johnson, USN, Civil Engineer, who was seconded to the RCN to oversee the initial site selection and preparation at North Sydney in August and September, 1918, died (of influenza complications) on October 13. Funerals were held on the 14 and the body taken by his parents to Ireton, Iowa.

Pleasant Hill cemetery, Ireton, Sioux county, Iowa, United States. The grave is located south of the E-W entrance roads, row 27 west of Cty Road K30.


1900: Eagle township, Sioux county, Iowa


---
Samuel Johnson
2 June 1812, in county Wexford, Ireland
William Johnson

Frances (Tench) Johnson

Marianne Richards on 5 November 1850 in Ardamine Church, county Wexford, Ireland, by Edward Richards, Rector of Clonallon, county Derry. The marriage was witnessed by S.A. Richards and J.H. Walker. Samuel is recorded as a bachelor, of full age, a manager of a bank, of Wexford, the son of William Johnston, a collector of customs. Marianne is recorded as a spinster, of full age, of Ounaverra, Ardamine, the daughter of John Goddard Richards, gentleman and Deputy Lieutenant of county Wexford.


Samuel was manager of the Wexford branch of the Provincial Bank of Ireland (1850, 1871). In 1899, he is listed as a J.P. for county Wexford.

2 April 1883, in Brookville, county Wexford, Ireland, aged 70


Belfast Newsletter

Thursday, 5 April, 1883
Deaths.
JOHNSON -- April 2, at Brookville, Wexford, Samuel Johnson, Esq., J.P., aged 71 years.

St John the Apostle graveyard, Ardamine, county Wexford, Ireland. Samuel's headstone reads:


In

memory of

Samuel

Johnson

OF

Brookville, Wexford

WHO DIED 2

nd

APRIL 1883

AGED 70 YEARS.

Surely goodness and mercy shall

follow me all the days of my life:

and i will dwell in the house of

the lord for ever.



---
William Ward Johnson
September 1855, in Ireland
Samuel Johnson

Marianne (Richards) Johnson

School teacher

8 May 1904



Plantagenet Roll of the Blood Royal: The Clarence Volume

p284 by Melville Henry Massue Ruvigny et Raineval (1994) lists William as having lived in Hawarden, Iowa, United States.

Pleasant Hill cemetery, Ireton, Sioux county, Iowa, United States. The grave is located south of the E-W entrance roads, row 27 west of Cty Road K30.


1900: Eagle township, Sioux county, Iowa


---
Return to Chris Gosnell's Home Page
Return to Chris Gosnell's Genealogy Page

If you have any comments, additions or modifications to the information on this page, please feel free to email me.


Created and maintained by:

chris@ocotilloroad.com