The Robinson Family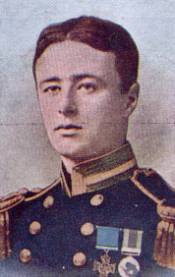 photo from Gallaher Cigarette Card at
Wikipedia
Eric Gascoigne Robinson
Rear Admiral Eric Gascoigne Robinson VC, OBE

16 May 1882, in Greenwich, Kent, England

John Lovell Robinson

Louisa Aveline (Gascoigne) Robinson

Edith Gladys Cordeux in 1913, in Basford district, Nottinghamshire, England. Edith was born in 1891, in Doncaster, West Riding of Yorkshire, the daughter of Dr. Robert Henry Cordeux and Ethel Monk Noble. She was baptised on 21 July 1891, in Doncaster. In 1910, Edith's father bought Bunny Hall, its Park and Bunny and Ratcliffe Woods in Bunny, Nottinghamshire. Edith died in 1938, in Petersfield district, Hampshire, aged 46.
Census& Addresses:
1901: Nottingham, Nottinghamshire: Gladys E. Cordeux is aged 9, born in Doncaster, Yorkshire
1910: Bunny Hall, Bunny, Nottinghamshire (Bunny Village website)
1911: Basford district, Nottinghamshire: Edith Gladys Cordeux is aged 19.

Royal Navy Officer. Eric had a distinguished career, reaching the rank of Rear-Admiral, and he was awarded the Victoria Cross among numerous other honours. Eric joined the navy on 15 January 1897. Details of his career can be found on the Wikipedia page for Eric Gascoigne Robinson and the WWII Unit Histories website.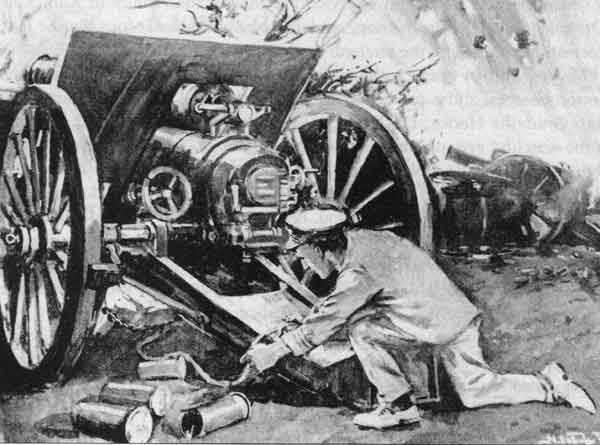 drawing from

VCs of the First World War - Gallipoli.

(Stephen Snelling 1999) posted at

anzacsite.gov.au

Eric was awarded the Victoria Cross in recognition of his services in the Dardenelles on 26 February 1915 in preparation for the landings at Gallipoli.


London Gazette

13 August 1915 p8132
The KING has been graciously pleased to approve of the grant of the Victoria Cross to Lieutenant-Commander (now Commander) Eric Gascoigne Robinson, R.N., for the conspicuous act of bravery specified below.
Lieutenant-Commander Robinson on the 26th February advanced alone, under heavy fire, into an enemy's gun position, which might well have been occupied, and destroying a four-inch gun, returned to his party for another charge with which the second gun was destroyed. Lieutenant-Commander Robinson would not allow members of his demolition party to accompany him, as their white uniforms rendered them very conspicuous. Lieutenant-Commander Robinson took part in four attacks on the mine fields - always under heavy fire.

One of his superiors, Commander Richard Keyes, wrote, after he won the VC:


"I am honestly lost in admiration for Robinson, he has done splendidly and I honestly am surprised. I did not think much of him as a First Lieutenant. But that evidently does not prevent him being an exceedingly brave man."

(as posted on the Great War Forum)

Not two months later, Eric participated in another mission to destroy a captured submarine that resulted in a special promotion as noted in the

London Gazette

23 April 1915 p3946
Lieutenant-Commander Eric Gascoigne Robinson has been specially promoted to the rank of Commander in His Majesty's Fleet, in recognition of the distinguished service rendered by him on the night of the 18th April, 1915, as Commanding Officer of the force which torpedoed and rendered useless Submarine E.15, thus preventing that vessel from falling into the enemy's hands in a serviceable condition. Dated 20th April, 1915.
A German officer present at this incident noted that "I have never on the course of the war seen an attack carried out with such pluck and fearlessness" (

VCs of the First World War - Gallipoli.

, Stephen Snelling 1995 p23)

Eric was awarded an O.B.E. on 11 November 1919 for "valuable services in command of the
Coastal Motor Boats in the Caspian Sea." (

London Gazette

11 November 1919 p13744). Eric received a number of other medals and awards both in Britain and from abroad, including Russia, Japan, France and Norway.

Eric retired as a rear-admiral in 1933, but re-enterd the service at the outbreak of World War II and for three years he commanded convoys across the Atlantic before retiring again in 1942.

Eric was often known by his nickname, "Kipper". He was initiated as a member of the Naval Lodge of the Freemasons on 17 May 1907 (MQ Magazine, Issue 9, April 2004). On retirement Eric was a church warden of St John's, a member of Petersfield Urban District Council and the chairman of the local parish council (MQ Magazine, Issue 13, April 2005

)



20 August 1965, at Haslar Naval Hospital, Gosport, Hampshire, England, aged 83

St John the Evangelist churchyard, Langrish, Hampshire, England.
An altar frontal in his memory was given by Eric's sister, Mary Robinson, at Easter 1969.
For unknown reasons, Eric was buried initially in an unmarked grave. The church was later approached by the Royal Navy VC Association, and after measurements were taken from adjacent marked graves, the exact position was established from church records. A standard War Grave headstone was erected, and a service of dedication was held on 28 August 1998, conducted by the vicar, Canon Terry Louden. It was attended by some 150 people, including a large contingent from Peterborough British Legion. Banners were lowered at the graveside, the Last Post sounded by a navy bugler, followed by Reveille - a most moving ceremony.


1911: Tendring, Essex: Eric Gascoigne Robinson is aged 28


---
Ernest Robinson
1880, in Greenwich, Kent, England

John Lovell Robinson

Louisa Aveleine (Gascoigne) Robinson

Margarite Herley on 25 June 1914, in Plymouth, Devon, England

Naval Officer. Ernest was initially in the merchant navy as 2nd officer with the P&O company. He had a seniority date of 27 December 1897 as a midshipment in the Royal Naval Reserve then, as acting Sub-Lieutenant, he was confirmed as Sub-Lieutenant on 6 November 1905 (

London Gazette

29 December 1908 p9944). Ernest was promoted to lieutenant on 16 August 1912 (

London Gazette

29 October 1912 p7941).

15 October 1914, aged 34, aboard H.M.S.

Hawke

when it was torpedoed by German submarine U9 off the east coast of Scotland

Chatham Naval Memorial, Chatham, Kent, England


1881: 1 Diamond Terrace, Greenwich, Kent
1911: Horsham, Sussex: Ernest Robinson is aged 31


---
John Lovell Robinson
1849, in county Cork, Ireland

Thomas Robinson

Trinity College Dublin. John graduated with a B.A. in 1872, and M.A. in 1875.

Louisa Aveline Gascoigne on 25 February 1875, in St Johns Church, Ivybridge, Devon, England
Naval Instructor and Chaplain
John was appointed naval instructor in the Royal Navy on 5 January 1871 (

London Gazette

6 January 1871 p38) and was posted to the

Agincourt

, flag ship of the Channel Squadron, on 1 September 1871 (

Navy List

1871). He was appointed chaplain on 20 October 1875, with seniority from 21 July 1875 (

London Gazette

22 October 1875 p4952). On 14 December 1875, John joined the

Rover

as chaplain and naval instructor, at the ship's commissioning in Chatham. The

Rover

was stationed in North America and the West Indies (

Navy List

1875), and John served on the ship until 1878 (

Navy List

1878). On 12 August 1879 John was posted to the

President

, a drill ship, for service at the Royal Naval College, Greenwich as as chaplain and naval instructor. John is listed as as an "instructor of acting sub-lieutenants in mathematics &c". (

Navy List

1883). He retired on 2 September 1902 (

London Gazette

5 September 1902 p5752)

John was the author of "A treatise on marine surveying: prepared for the use of younger naval officers, with questions for examination and exercises, principally from the papers of the Royal Naval College, with the results.", published in 1882, and

Elements of Dynamics (Kinetics and Statics

), published in 1888.

7 December 1939 in Horsham district, Sussex, England, aged 90


1881: 1 Diamond Terrace, Greenwich, Kent
1893: 7 Eliot Park, Lewisham, Kent (

London Gazette

7 July 1893 p3867)
1911: Horsham, Sussex: John Loveee Robinson is aged 61 born in Cork
1914: Devon Lodge, Monksgate, Horsham, Sussex (

Dublin University Calendar

1914-1915 p282)


---
Mary Robinson
1875, in Ivybridge, Devon, England

John Lovell Robinson

Louisa Aveleine (Gascoigne) Robinson

1977/8, aged 102


1881: 1 Diamond Terrace, Greenwich, Kent
1911: Horsham, Sussex: Mary Robinson is aged 35, born in Ivybridge, Devon


England Birth Index (4Q1875 Plympton vol 5b p220); exact place from 1911 census
1881 census
Great War Forum
---
Return to Chris Gosnell's Home Page
Return to Chris Gosnell's Genealogy Page

If you have any comments, additions or modifications to the information on this page, please feel free to email me.


Created and maintained by:

chris@ocotilloroad.com